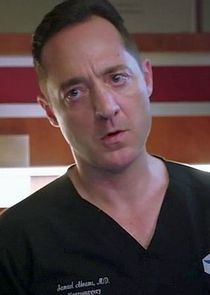 Dr. Sam Abrams is the head of neurosurgery at Gaffney Chicago Medical Center.
Biography
Dr. Abrams disagrees with the new rules, defending that new generation doctors should work through tiredness.
When coming back from a conference in Honolulu, Sam is believed in a plane crash causing him to suffer from major burns. He's taken to Chicago Gaffney where he's treated, but his wife is told that he will never fully recover and she decides to pull the plug.
It's then revealed that Sam was never on that flight as he decided to stay longer and the person in Sam's seat was a sales rep who was also at the conference. (The Ground Shifts Beneath Us)
Trivia
Sam's wife, Michelle, describes him as fiercely independent and decided to take him off life support as he would never be able to be independent again. Sam agreed with her decision. 
Appearances
Season 1 Appearances
"Derailed"

"iNo"
"Fallback"
"Mistaken"

"Malignant"
"Bound"
"Saints"
"Reunion"
"Choices"
"Clarity"
"Intervention"
"Guilty"
"Us"
"Hearts"
"Inheritance"
"Disorder"
"Withdrawal"
"Timing"
Community content is available under
CC-BY-SA
unless otherwise noted.