Phillip Davis is the ex-boyfriend (ex-fiancé according to him) of Natalie Manning and the father of Sophie Davis. He was portrayed by Ian Harding.
Biography
Natalie first meets Phillip when he brings his pregnant wife into the ED. His wife has a brain aneurysm that could rupture if put under too much pressure, which is why they have scheduled a C-section instead of planning on a natural birth. When the aneurysm ruptures, his wife passes away and their daughter Sophie is delivered via C-section.
Due to her premature birth, Sophie has a heart defect for which she has to spend several weeks in the Neonatal Intensive Care Unit. Throughout this process, Natalie and Phillip become close and eventually develop a romantic relationship, much to Will Halstead's annoyance. Natalie eventually realizes her true feelings are still for Will, but while she is sitting with him in his car they are attacked by Tim Burke, and Natalie is thrown from the car and suffers a traumatic brain injury.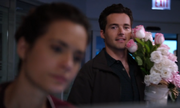 When Natalie wakes up after her injury, she is surprised and confused to learn that she and Phillip have apparently gotten engaged, and that she is now wearing his engagement ring. After Crockett Marcel reveals to Will that Phillip secretly slipped the ring on her finger while she was unconscious, he angrily confronts Phillip, and Natalie breaks off their engagement.
When Phillip's sister and her husband bring Sophie into the hospital for her scheduled heart surgery, Natalie's memory returns and she remembers that she never got engaged to Phillip, and that she was coming to tell Will her true feelings for him when they were attacked.
Natalie is shocked to learn that Phillip is nowhere to be found and that he has abandoned Sophie, leaving her with his sister. He has put a Do Not Resuscitate order into place, preventing Sophie from being revived should she go into cardiac arrest. His sister reveals that she has always known Phillip to be a pathological liar who has no qualms about skipping town whenever things don't go his way. Dr. Latham is able to successfully perform the surgery.
Notes and Trivia
Sophie's story line is never resolved on the show, and it is unclear whether Phillip's sister and her husband were able to adopt her.
Appearances
Season 5 Appearances
"Never Going Back to Normal"

"We're Lost in the Dark"

"In the Valley of the Shadows"

"Infection: Part II"
"Got a Friend in Me"
"It's All in the Family"

"Who Knows What Tomorrow Brings"
"Too Close to the Sun"
"I Can't Imagine the Future"
"Guess it Doesn't Matter Anymore"
"The Ground Shifts Beneath Us"
"Leave the Choice to Solomon"
"Pain is For the Living"
"It May Not Be Forever"
"I Will Do No Harm"
"Who Should Be the Judge"
"The Ghosts of the Past"
"In the Name of Love"
"Just a River in Egypt"
"A Needle in the Heart"